Kevin Lovelady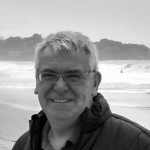 Kevin Lovelady is an experienced IT consultant who lives in Liverpool, fondly recalling his days as a 14th arrondissement local. A self-confessed Francophile, Kevin's favourite Parisian quartier is the Latin Quarter for "the romance, history and creativity – and for the jazz haunts". When he gets the chance to come back to the city, he indulges in popular local pursuits, spending time on terrasses and people-watching.
With over twenty years experience Kevin has worked with large corporations to SMEs and is now getting more involved with social media marketing and business development. At Vingt Magazine Paris he is the technical administrator for the website and also helps to manage much of the online marketing.
When he's not making sense of the digital world, Kevin finds inspiration with his family and friends, as well as with music and languages.
Favourite local bar?
Le Petit Journal Montparnasse, 13 rue du Commandant Mouchotte in the 14th.
Favourite local cafe/restaurant?
Millésimes 62, 13 pl. de Catalogne, in the 14th.
Local indulgence?
La Coupole, 102 bd. du Montparnasse in the 14th.
Guilty pleasure?
Walking to the Rosebud thinking I'm Jean Paul Sartre going to meet Simone de Beauvoir!
The best thing about your quartier?
The mix of modern and traditional.
Save