Saint-Tropez – The Charm Remains
Posted on March 1, 2016 by Jill Pope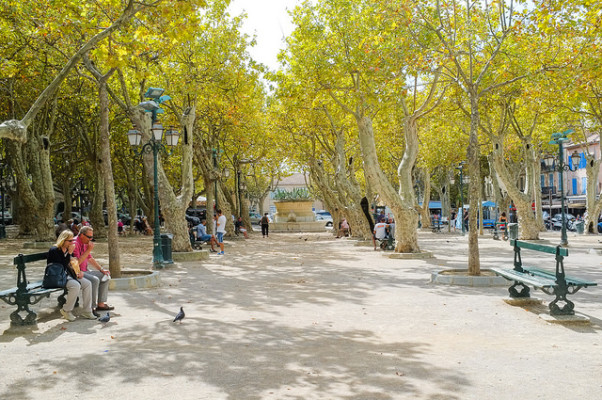 Since a cavorting Brigitte Bardot put Saint-Tropez on the map and irrevocably changed the fortune of this sleepy seaside village in the south of France, 'St Trop' has become synonomous with the lifestyle of the rich and famous. But beneath the glitz and glamour of gigantic yachts and designer boutiques the essence of the charming pink provençal town remains – meaning that no matter whether your tastes are champagne or pastis, you'll find something to love.
Saint-Tropez life is centred around the dappled sunlight of Place des Lices, a striking square studded with ancient plane trees, around which sit a range of bars and restaurants including the Le Sporting, the closest St Tropez gets to a local's café, which is a great spot for people watching. The Saturday morning market is held in the place – this one event encapsulates the dichotomies of this world-renowned destination : you'll find home-made local tapenades, fougasses, cheese and charcuterie, brightly-coloured fruits and vegetables as well as….vintage Chanel, fur coats and some other delightfully incongruous beach-side items. For seafood lovers, the fish markets are held further into the old town in the Place aux Herbes and are held 7 days a week, accompanied by a small selection of vegetable vendors. If you miss the market and need to stock up on picnic items, the Lou Pistou deli just off Place des Lices has a great selection of stuffed vegetables, pestos, salads, cold meats and dips (as well as amazing roast chickens) to take away.
Saint-Tropez – still has something for everyone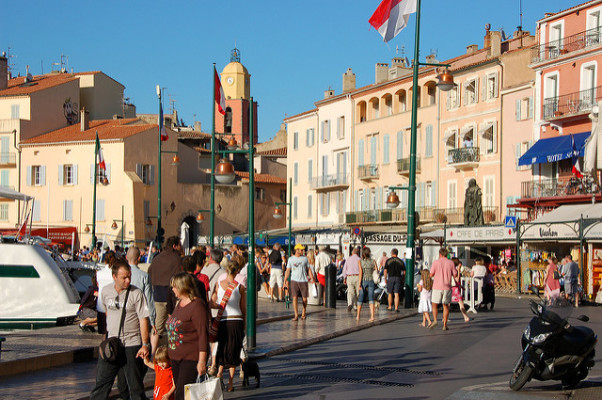 You can't miss an obligatory promenade around the harbour – depending on the hour stop for an aperitif or coffee at Sénéquier, the red-awninged stalwart of the port. To sample one of the eponymous pastries – la tarte tropezienne – head to the Aux Deux Frères bakery – for excellent croissant and the namesake tart, an appropriately extravagant concoction of sponge cakes and cream.
Old-school Saint-Tropez is best represented by the constellation of three enduring restaurants huddled together in the ramparts of the old town – La Pesquière, La Ponche and Le Mazagran. All three have acquired extra territory as years have gone by and now own almost all of the tiny paved street that curves around to a magnificent view of the adjacent headland and out to the bay. Tucked away from the busy port and dining on stuffed vegetables, ratatouille and fish soup served with rouille and toast on open air tables, it's easy to forget the jetsetter lifestyle down the road. La Ponche, on the ground level of a 5-star boutique hotel, offers a terrific sunset view from which to sip your cocktail, while La Pesquière's dinner menus are reasonably priced and very fresh.
If you'd like a taste of Saint-Tropez's bling Byblos Hotel and its Alain Ducasse restaurant will tick all the boxes – to sample the famous local debauchery try your luck at being admitted to legendary nightclub Les Caves du Roy, also on site. Committed beach bums can head to the Plage des Graniers, one of the only free beaches in the area, or enter the secluded confines of one of the private beach clubs such as the luxurious Nikki Beach in nearby Ramatuelle.
EAT
Lou Pistou
1 Place des Lices
04 94 97 04 69
La Pesquière and Le Mazragan
Rue des Remparts
04 94 97 05 92
Le Sporting
Place des Lices
04 94 97 00 65
Le Sénéquier
Quai Jean Jaurès
04 94 97 20 20
Aux Deux Frères
3 rue des Commerçants
09 66 94 00 86
La Vague d'Or
Plage de Bouillabaisse
04 94 55 91 00
Set on a picturesque beachfront this modern gastronomic restaurant is attached to the 5-star 1930s hotel La Résidence de la Pinède.
Le Club 55
43 Boulevard Patch, Ramatuelle
04 94 55 55 55
Set in quieter Ramatuelle this 'beach shack' has been serving up their legendary 'panier de crudités et anchoïade' since the early days – come early for a swim and enjoy a long lunch spiked with plenty of rosé.
STAY
La Ponche
5 Rue des Remparts
04 94 97 02 53
Byblos
20 Avenue Paul Signac
04 94 56 68 00
La Réserve Ramatuelle Hotel
Chemine de la Quessine, Ramatuelle
04 94 44 94 44
Out of the main town of Saint-Tropez, but easily accessible by car, this hotel is an exclusive conglomeration of rooms and villas in a tranquil pine forest.
DO
Plage des Graniers
Chemin des Graniers
A little walk through the woods leads you to a pocket-sized beach on a bay and the only free beach within walking distance of the main town.
Nikki Beach Club
1093 rue de l'Epi, Ramatuelle