Melissa Unger
Posted on September 8, 2011 by VINGT PARIS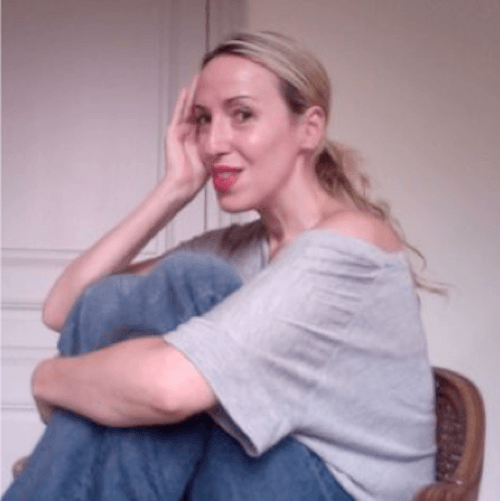 Melissa Unger is the founder of Seymour, an initiative dedicated to cultivating creativity and imagination. Melissa is also a freelance consultant and frequently interviews contemporary artists for artnet.
1. What initially inspired you to move here or visit?
I was stuck in a rut in New York City. I needed to clear my head.  My mother is French so I had spent some time here growing up; it seemed a lovely place for a temporary escape. I planned on staying 3 months. I just celebrated my 7th year here. Paris is a hard habit to kick.
2. Earliest Paris memory?
The day after my arrival, taking a morning bath instead of a shower; I wasn't in a rush, there was no one waiting for me anywhere. It was both terrifying and exhilarating.
3. Best neighbourhood you've ever lived in?
The 10th! I LOVE living on the Canal St. Martin! It's like a village within the city.
4. What's the best meal you've eaten in Paris?
I'm not much of a foodie, but Hotel du Nord, just below my apartment is my favorite restaurant. The vibe is great. I'm creature of habit; I always get the salade Chinoise craquante to start. If I ask nicely (flirt shamelessly) the bartender makes me a not-on-the menu Negroni.
5. Sexiest moment you've had in Paris?
Coming downstairs early one morning to find the man I had recently started dating, waiting for me outside. He had come to walk me to work.
6. What do you hate most about living in Paris?
Too frequently hearing these 4 words: "Ce n'est pas possible."
7. Who's your favourite Parisian — be they living or dead, real or fictional?
My Grandmother.
8. Favourite cinema?
The MK2 theaters on Quai de Seine and Quai de Loire. I love to have a beer by the water's edge before ducking into the cinema.
9. Right bank or left bank? And why?
Right! It's like the Wild West over here; there are still new frontiers to discover.
10. Favourite Caviste?
Le Verre Volé
11. Where do you go to escape the city?
Pyrénées Mountains, in a particularly magical & remote spot. I'd tell you exactly where, but Bigfoot and the Unicorn would kill me.
12. Where are the best looking girls or boys in Paris and why?
Belleville. It's less homogenous there. It's a beautiful, boisterous mix of ethnicities and creative sartorial expression.
13. Where do you get your news?
The Mighty Internet.
14. Favourite museum?
Musée D'Orsay. I love the building itself and also because it houses one of my favorite paintings: Raboteurs de parquet by Gustave Caillebotte. I also love La Maison Rouge for contemporary art. Their exhibitions are always well curated and interesting.
15. Favourite shop?
Deyrolle… and the basement at BHV.
16. Who's the most stylish Paris personality?
The waiters at Café Flore. They are so fabulous in their classic black and white uniforms. Some have been there for decades. They are extravagantly arrogant, but warm in their own way, very funny and sharp…and believe me they know ALL the Paris gossip. They buzz around the tables of all the glitterati, no one notices them, but they hear and see EVERYTHING. They are some of Paris' greatest living historians.
17. What is your favourite film set in Paris?
A Little Romance
18. What about Paris most inspires you?
Its ghosts.
19. What makes someone a Parisian?
Never look at your watch. Or even better, don't wear one.
20. What's your favourite French word? (Swear words allowed!)
Can I give you a phrase instead?
"L'heure entre chien et loup." (Literally translated: "The hour between dog and wolf.")
It's the hour just between day and night, twilight…when the light dims to almost nothing and you can't quite make out who is your friend and who is your enemy.