Paris' Hammam Steam Baths
Posted on July 30, 2007 by VINGT PARIS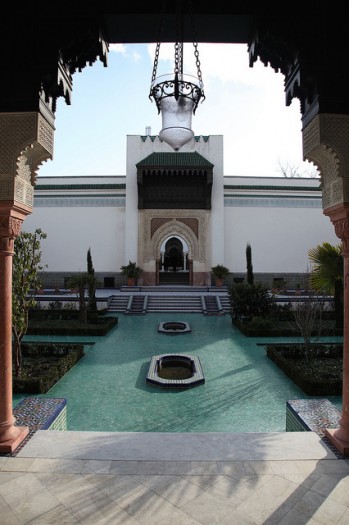 Text: Susie Hollands
Image: Ed Porras
A popular way of winding down in Paris is to hit the Hammam. It's a type of relaxing steam bath that was imported here from the Maghreb (North Africa) along with now staple French favourites cous cous and sticky Orientale sweets. You need to bring your own bathing supplies but towels or cotton wraps are provided. Women normally wear only bikini bottoms but if you're shy you could wear a bathing suit. It's one of the popular places to hang out with friends, relax and gossip. Not surprisingly, Hammams have separate sessions for men and women. Most charge a fee to bathe and and a separate fee for a massage and body scrub. Some Hammams sell individual packets of Savon Noir a kind of black soap traditionally for use in the scrub or "gommage". You can also pay to have a personal "scrubber"; the process lasts for about 10 minutes and you'll emerge smooth as butter. The first step is to relax in a warm room that is heated by a continuous flow of hot dry air allowing you to work up a glow. Move on to the hot room and finish off with a plunge in a cold pool. Go through the process as many times as you feel like, fit in a gommage along the way, finish off with a massage and flop down in the cooling room with a book and a the à la Menthe (Mint tea).
Le Bains du Marais
One of the finest in Paris. Scrupulously clean with a very beautiful wooden pannelled entrance, professional and polite staff and a line of their own beauty products. Wrap yourself in a giant fluffy bathrobe and rubber flip flops and relax. The place is booked solid by frazzled fashion editors during prêt à porter so make sure you call and book in advance. Abdou will help you to wind down with his trademark essential oil relaxing massage.
31-33 rue des Blancs Manteaux, 4th
Metro: Rambuteau (11) or Hotel de Ville (1, 11)
Mosquee de Paris
The hammam housed inside the beautiful Hispano-Moorish building dating from the 1920's is authentic but the cleanliness of the place leaves a lot to be desired. They offer a gommage (good) for 10 euros extra. It's the cheapest in Paris and if you save on the luxury you could treat yourself to some delicious honey and almond-based pastries in the salon de thé next door. Touring the Mosque itself is also worthwhile.
39 rue Geoffrey Saint-Hilaire, 5th
Metro: Place Monge (7)
Hammam Med Centre
In the 19th district of Paris you'll probably be one of the only non-local clients. The 'Forfait florale' option (€139) has you cloaked in rose petals and massaged with Huile d'Argan from Morocco. As well as the hammam and gommage they have other "soins" such as facials and manicures.
43-45 rue Petit, 19th
Metro: Ourcq (5)
O'Kari Hammam
Karima Lasfar is doyenne of O'Kari Hammam in the heart of Montorgueil, the pinnacle of years of her passionate and detailed research. Brought up in Algeria before moving to France the ritual of the Hammam is indelibly linked to her culture and way of life. Increasingly popular withpeople from all backgrounds Lasfar believes the experience is essential for well-being, a space where women can relax and recharge. O'Kari is one of the few Parisan Hammam reserved solely for women. The space was finally chosen after years of searching – the underground cavern with vaulted ceilings is the perfect cocoon. The attendants will talk you through the procedure and apply a perfectionism to the entire process which clearly puts them in a different league to other Hammam in the city.
22 Rue Dussoubs, 2nd
Metro: Etienne Marcel (4) or Sentier (3)
Hammam Pacha
The left bank outpost of the famous Hammam Pacha in St-Denis. Behind an unassuming facade lies an authentic and comfortable Hammam with great extras; facials and massage with huile d'argan, fleur d'oranger and secret Moroccan ingredients. Open daily and one of the best value for the authenticity and quality of their staff. Relax in the Salon du The after your soak.
17 Rue Mayet, 6th
Metro: Duroc (10, 13)