Jardin du Ruisseau
Posted on March 17, 2017 by Rooksana Hossenally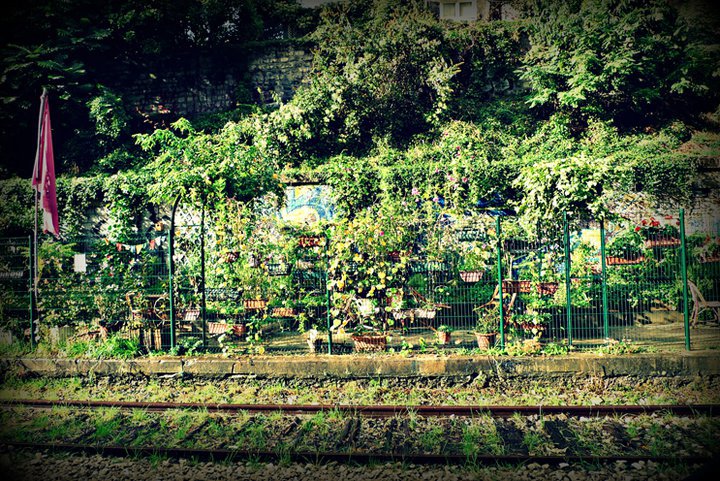 Text: Rooksana Hossenally.
The Jardin de Ruisseau, a well-kept secret, is a little haven of peace and quiet blossoms quietly under a bridge by a disused railway in the Porte de Clignancourt area. Far from the madding crowds, gardenless Parisians will be pleased to be able to retreat to a pretty oasis of blooming flowers and local cultural activities creating a much sought-after 'vie de quartier' that seems to be disappearing in the concrete jungle Paris is becoming. If you have had enough of the city's parks seething with bodies basting in the sunshine, you need look no more. Stop off at the end of line 4 and saunter down to the end of rue du Ruisseau, and under the bridge to what used to be the Ornano metro station up until the 1950s.
The Jardin du Ruisseau, literally meaning 'garden of the brook', is mainly on the north side of the tracks. Here, the association, Les Amis du Ruisseau, created something by combining a garden with an allotment primarily to educate school children in the area about the ecosystem. At the weekends the garden is open to all passers-by for a picnic or a concert along the railway. One thing is clear, the Jardin du Ruisseau initiative is an example to be followed all over the world's cities. Not only does the garden bring vegetation to an area where there is no park nearby, but it also brings the community together and educates children about the local fauna and flora.
The garden was originally created by the association, 'Ecuyer des Tulipes', formed by residents of a charming little cobbled residential street just to the back of the garden, Villa des Tulipes. The association 'Les Amis du Jardin du Ruisseau' was then formed upon authorisation from the local authorities to open the area as a garden (Paris préfecture, the national network of railways, and the SNCF). The association receives donations to run the garden, which has been taken very seriously by the authorities. The association received a donation totalling over a quarter of a million Euros.
The garden came to life about ten years ago after hard grafting and cleaning of the entire area, which was used as a dumping ground for all sorts. Audrey Dauman, resident in the area for over ten years and founder of the association, has played a key role in inspiring her entourage to pitch in as well as the local authorities to give the association a grant in order to make this symbolic project possible. Today, the Jardin du Ruisseau is the heart and soul of the community, especially for families in the summer.
To learn more about the pedagogical aspects of the project, check out the association's website which reflects the fun, original and easy-going nature of the garden. For an-up-to date version of the events guide see the association's website below.
Jardin du Ruisseau
104 Rue du Ruisseau, Paris 18th
Metro: Porte de Clignancourt (4)