Restaurant Sauvage
Posted on May 22, 2015 by Jill Pope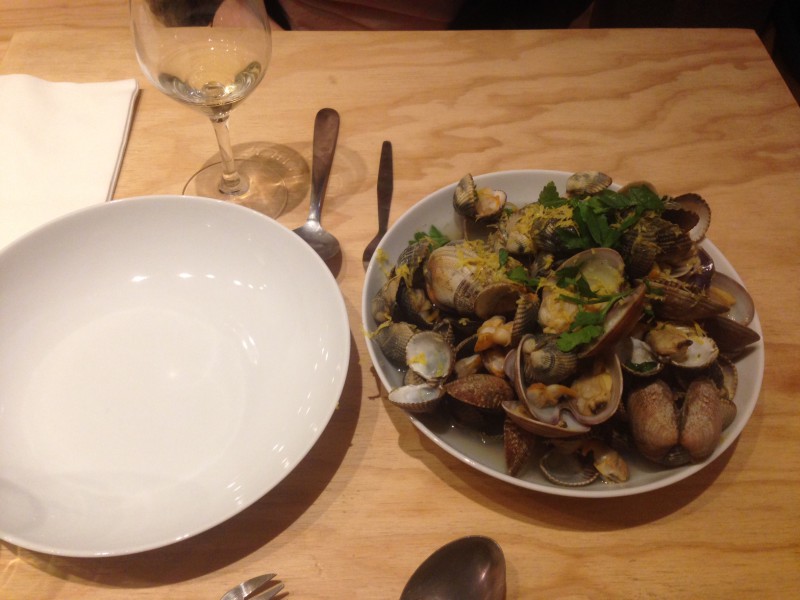 Words and Images: Jill Pope
If it sometimes feels like the bohemian hey day of the 6th and 7th arrondissements is behind it, Restaurant Sauvage has brought back a rather contemporary reinterpretation of that free and easy lifestyle. The small space is smartly kitted out with plywood tables and long benches along one wall, which gives a surprising amount of seating, albeit cosy, which lends itself to the communal feel of shared intimacy.
Ostensibly a cave à vins filled with bio and natural wine treasures from independent winemakers, Restaurant Sauvage also offers cheese and charcuterie direct from the farm as well as some hot dishes 'of the moment'. These are concocted by your maître'd cum sommelier cum chef cum psychoanalyst Sébastien, whose one-man-band act may require some patience but due to his charm, is ultimately rewarding. He sums up the restaurant's ethos by saying "here, everything is sauvage". You might find a steaming heap of steamed shellfish tempered by lemon delivered to your table, a succulent sausage and mash, swimming in a sauce of crème fraiche and vin jaune, or mackerel and spring herb salad. All delicious, all prepared with the limited kitchen equipment of a Parisian studio.
You might not find Sartre or Hemingway curled over a glass of wine, but somehow the continuing cavalcade of regulars and drop-ins re-conjures up a little bit of the lost feel of the lost generation. Sauvage by name, sauvage by nature!
Restaurant Sauvage
60 rue Cherche Midi, 6th
Ph. 06 88 88 48 23
Métro: Rennes