RELIGHT MY FIRE: BAN ON PARIS WOOD FIRES OVERTURNED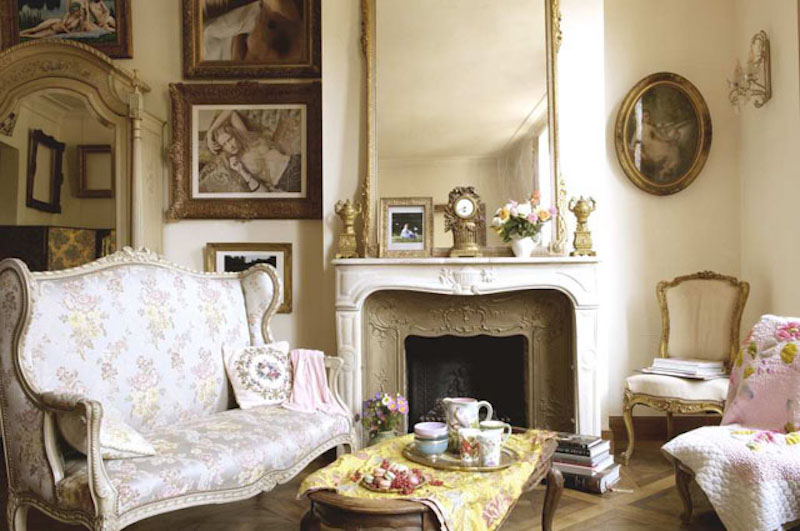 The dream of owning the traditional Paris home, with the staple traditional wood fire blazing in the corner has had a rebirth. Recent plans to ban open wood fires in homes across the capital of France has been overturned by the French Ministry of Ecology, following consultation with environmental health officers allayed fears of pollution concerns.
In March 2013 the Prefect of the Ile-de-france region looked set to pass a decree banning wood fires in homes across the capital, with claims that wood burning across the country contributed to 29% of the CO2 emissions across France, with wood fires within homes making up 6% of that figure. The turnaround sees wood fires now permitted as a 'secondary' source of heating, but can no longer be used as the main source of heating within a property.
Following this order, the regulations on open wood fires in homes across Paris, states:
The use of open fires is allowed for the auxiliary heating of the household
Wood used in stoves, fireplaces and hearths must be eco-efficient
The use of open fires as the main heating source for a home is prohibited
Susie Hollands, CEO & Founder of leading Paris Property Agents VINGT Paris, commented: "Traditional fireplaces, hearths and furnaces across Paris were on the verge of extinction, which would have been a real loss to some of the more traditional Parisian homes. We're delighted the ruling has been overturned, as are a number of our clients, who all appreciate the warmth of an open fire.
"Part of the dream of living in Paris is being curled up in front of a wood fire in a cosy Ile St Louis apartment or a grand Haussmannian with elegant marble "cheminèe", we have a number of properties for sale, with grand fireplaces, dating back to the 18th Century, that can continue to be enjoyed in all their splendour."
St. Germain des Prais Mansion
Situated in St Germain Des Pres, 6th Arrondissement, the mansion is spread across two floors, with a private courtyard garden in the centre, allowing views from every room, a rare gem for a home in the centre of Paris. The interiors are a combination of beautiful traditional Parisian design and original features such as decorative wooden panelling, creating a truly unique home.
A generous double dining room, that couples as a ballroom, has been the setting for many cocktail parties and private dinners by its current owners, features walls adorned with hand painted Chinese silk, creating a theatrical setting. Ideal for those who like to have parties and keep their private living spaces separate.
The 1,076 sq. ft. living room features rich wood finishes, with red furnishings and original fireplaces, dating back to the 17th century, as well as floor-to-ceiling arched sash windows, which open onto the courtyard garden.
The three large bedroom suites all have their own unique style with upholstered hand painted walls and their own colour schemes. Each offering views across the courtyard garden, bespoke walk in wardrobes and en-suite bathrooms. St. Germain Des Pres Mansion is priced at €12.5 million (£9.15 million).
Etoile Miromesnil 2
Priced at €1.757 million (£1.2 million), Etoile Miromesnil 2 is a perfectly appointed three bedroom pied-å-terre apartment located close to the French Presidential principle residence. The apartment is complete with traditional fireplace, reception room and kitchen/dining area. Situated in the 8th arrondissement, residents are a two-minute walk to Elysee Palace and within four-minutes of the world-famous Champs Elysee.
Commenting on the perfect traditional Paris pied-å-terre, Susie commended: "This is a beautiful central Paris apartment, with beautiful volumes, classic features and spacious rooms. This property would be exceptional value as a pied-å-terre in one of Paris' finest districts, with good rental investment potential."
St. Germain des Pres Bellechasse 2
Located in the 7th arrondissement, this 1,360 sq. ft. apartment dates back to 1800, complete with original open fireplace. The three-bedroom first floor home is complete with a grand entrance hallway, kitchen, lounge, dining room, bathroom and spacious storage areas.
The apartment is flooded in natural light, with features including classic parquet flooring throughout and original fireplace with vents leading to classic chimneys. Les Invalides and Musee Rodin is just a short walk away. St. Germain des Pres Bellechasse 2 is available to buy for €1.795 million (£1.31 million) or to let at €4,500 (£3,290) per month.
Each apartment is available for sale through leading Paris property agents, VINGT Paris. For further information, contact +33 970 4669 01 or email [email protected].
For further press information please contact Lawrie Cornish:
Adam Foster                         E [email protected]
                                                  T +44 (0)20 7935 4084
Chanel Patterson                 E [email protected]
                                                  T +44 (0)20  7935 4084
Notes to editors:
VINGT Paris is a full service real estate agency, offering the selling and management of property in Paris. Working with clients from all over the world, including; the UK, USA, Australia, Brazil, Russia and the Middle East, VINGT Paris specialise in finding international clients their perfect Paris home.
Covering all types of properties, including; studios, apartments and houses in all 20 arrondissements of Paris, VINGT Paris have intimate knowledge of Paris combined with a vast experience of the French real estate market, making them the the ideal partner for international buyers looking to move to Paris.