Aaron Ayscough
Posted on December 12, 2013 by Jill Pope
Wine is the ultimate marriage of art and science: at once precise and technical, relying on thorough research and controlled experimentation, it is also sensory and aesthetic, at the whim of the elements, human touch, and some degree of luck. Perhaps then given his long-term Dionysian passion it is unsurprising that Aaron Ayscough, a Paris-based wine writer and consultant, and author of blog 'Not Drinking Poison in Paris', exhibits a similar duality.
On NDP, Aaron recounts the swings and roundabouts of his wine, restaurant and bar experiences in La Capitale and beyond with a no holds barred approach. Unlike many other Paris food blogs he is unswayed by hype and one of the best things about NDP is that you are left in no doubt of how the author really feels – for better or for worse. He delivers his reviews with no small amount of chutzpah, manipulating language to illustrate his perspicacity and wit, which saves his more scathing denouements from sounding dogmatic. Aaron is a staunch advocate of natural wine, a broad church within which he belongs to one of the more inclusive congregations. By his definition, wine that has been made with minimal intervention, which reflects its specific circumstances – the land it was grown on, the time it was made in and the vigneron who made it – can be considered natural, whereas some of the more radical natural wine supporters consider zero intervention, including the common preservative sulfites, mandatory.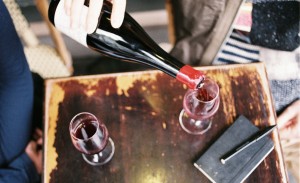 As we sit in Café de Nouvelle Mairie, in the fifth arrondissement, one of Aaron's favourite Paris natural wine bars, I am reminded of the contrast between 'online' and 'offline' Aaron. The audacity and sense of humour carry over, in fact when I ask him about what excites him about the current wine scene in Paris he replies with characteristic candour: "I'm happy to see some really unsophisticated natural wine spots opening these days. Just totally blockheaded loser endeavours. It's a good thing, it means it's trickling down". His sagacity is also a constant: Aaron's somewhat jaded wisdom belies his years, like one of those clown cars with improbable volume. But away from the finite and unyielding dimension of published words, Aaron in person is necessarily more elastic, his gentle manner and warm enthusiasm offering an almost surprisingly soft counterbalance to his bold online persona. Even his more zealous polemics are tempered by a rueful grin, although he relishes the opportunity to dissect and debate others' opinions.
Aaron always appears active, when excited he gestures emphatically with his hands and rolls his eyes for exaggerated effect, and even when subdued he fidgets and plays with his glasses or other nearby props, his eyes rarely resting long on any given target. This constantly simmering energy is reflected in the diversity of his pursuits: besides his 'day job' working with an international fashion label, Aaron writes – his blog, as a contributing editor for Paris by Mouth, and also for other publications. On top of this he is an occasional wine consultant – at the moment he's helping out some friends with their new wine bar Düo, in the 11th arrondissement. This 'fingers in a lot of pies' approach is a testament not only to Aaron's multiple capabilities and his need to keep busy, but also his generosity – he finds a way to help friends out wherever he can.
Aaron claims he started NDP as an outlet when "my friends and co-workers tired of my complaints about food and service". An ex-sommelier who has worked with international juggernauts such as Mario Batali's Mozza, Aaron has a shrewd understanding of how service and product standards can impact business profitability, and how to deliver these things efficiently. A recurring motif throughout NDP is his frustration at the sometimes-mercurial service standards of Parisian bars and restaurants, which sometimes appear be either ignorant (wilfully or otherwise) or apathetic towards this knowledge. Aaron hypothesises that this can be attributed to "the French tradition of academicising things, which is a tradition of exclusion, which is why your bearded waiter often appears proud not to have brought your water." This is an attitude that he is disappointed to notice is becoming more prevalent in some of the city's natural wine spots, where he feels that the informality that goes hand-in-hand with challenging the status quo sometimes provides a convenient decoy for below average service.
Like many others, I first encountered Aaron in the virtual world, stumbling across NDP in 2012 while researching my upcoming move to Paris. Given the Chablis-level dryness of many wine blogs, I was glad to find an author who could inject humour, colour and life into a subject that is supposed to be enjoyed after all. I was equally delighted to discover Aaron's penchant for analogising wine to songs or genres of music. He reveals that this habit grew out of an inside joke with a former band manager customer, with whom he compared each wine he drank to a specific pop song. Consequently Aaron's blog must be the only wine blog to be cross-indexed by musical eras and styles. It seemed fitting that the first time I met Aaron in person we spent the better part of the evening drinking wine and bonding over tragic mid-90s indie rock music. He says he has rarely had a bad experience meeting people through his blog, and acknowledges that its uncompromising voice means that it is self-selecting.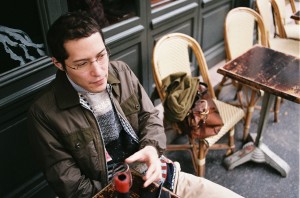 Speak to Aaron on one of his pet topics and you'll quickly realise his exigent standards are applied to himself as well. He jokes that a downside of not working full-time in the restaurant business is that you "become a wimp", but behind this self-deprecation lies ambition, in particular his insatiable desire for knowledge. Discussing some of his recent articles, he describes his biggest challenge as knowing when to stop, he finds it difficult to wrench himself from the depths of each subject. Likewise, his encyclopaedic wine knowledge is no accident. Learning how this savant-level cognition came about perfectly displays the dichotomy of Aaron's personality. The short story is that while he was working as a waiter he realised he could earn significantly more as a sommelier so decided to train himself up. The long story? After suffering a concussion in his early 20s and losing his sense of smell, Aaron also used wine as a way to recover his lost sense, re-training his nose and palate. This auto-didactic dedication, and his incorrigible commitment to empirical intellectualism means that Aaron is often found "in the field", at his favourite Parisian haunts, chatting with friends, staff or people from the industry and continuing to expand his already remarkable mental cellar.
Aaron cites the égalité of the Paris wine scene as one aspect that sets it apart: "one can run into great winemakers by chance, while shopping or having lunch". It is those slivers of serendipity that serve some of life's most memorable moments, quite literally in Aaron's case. He talks about one of his favourite recent wine experiences: "After a superb meal at Chez Michel, I noticed, on my way to the toilet, a big pile of Jean Thevenet's super-rare Mâcon-Clessé Rouge from 1991. Afterwards I popped round to say hi to the owner, Thierry Breton, at his adjacent wine bar, and asked him about the wine, which hadn't been on the list that evening. He said they just got it in – and he happened to have a bottle open on the bar behind him, from which he promptly poured me a glass. It was splendid: spiced, luminescent, almost Nebbiolo-like."
With plans to turn NDP into a "book of shrill, despairing essays on Paris and wine", it seems those chance encounters will keep Aaron in Paris for some time, along with some of his other projects such as wine consulting, leading tours and contributing to Paris by Mouth, as well as writing for other publications. Aaron Ayscough is not backwards about coming forwards, and with that chiaroscuro of firmness and flexibility working in his favour, forwards is certainly the direction he is headed in. Watch this space.
 Words: Jill Pope
Images: Sati Leonne Faulks