David Rager and Cheri Messerli, "Weekends"
Posted on January 15, 2014 by Jill Pope
Words: Jill Pope
Images: François Coquerel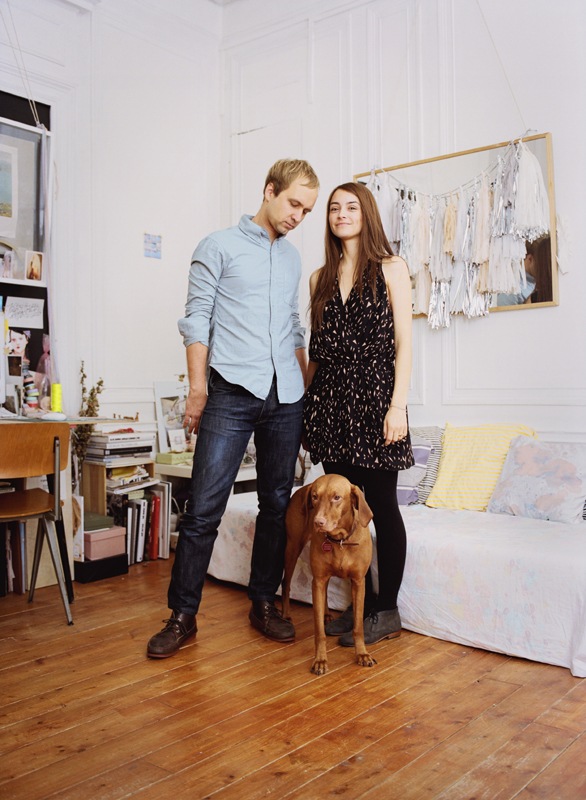 Nobody who has lived in or visited Paris over the past few years can deny the recent injection of energy that the city's bars and restaurants have received. In the past la capitale's gastronomy was revered for its purist adherence to tradition rather than modern innovation, but as many recent articles have attested, this time-worn veneer has begun to crumble. New niches have been created in a range of new Parisian spaces, which challenge the status quo of zinc bars and confit canard by offering exciting new flavours and experiences – often spearheaded by international chefs and operators – from the food through to the physical environments. Californian husband and wife David Rager and Cheri Messerli, are "Weekends", the interior design team behind many of these 'new wave'  Parisian venues. Originally hailing from other design backgrounds (David is an art director and graphic designer, Cheri is a stylist, illustrator and jewellery and fashion designer), they first teamed up together to design Candelaria – a small taqueria and cocktail bar in the Marais, which introduced Parisians to the heady delights of authentic Mexican food and artisan cocktails in a space as finely crafted as its food and drinks. In Candelaria and all of Weekends' subsequent projects there are certain constants: a love of organic materiality, a graphic use of colour and an appreciation of how light interacts with space in both day and night. These recognizable qualities reflect the brightness of the personalities behind Weekends  – David's infectious affability and Cheri's calm warmth – and also their origins, they admit that as natives, California is a big part of their identity and the first place they draw influences from. In spite of this, Weekends' undeniably contemporary designs achieve the difficult balance of existing harmoniously with each unique site and context – they may import inspiration but the result feels like a natural evolution of each space's story. Perhaps the secret is the Weekends philosophy – creating places they would want to hang out in themselves.
David and Cheri relocated to Paris four years ago, just after they were married. With typical Californian nonchalance, David explains how the move came about: "We'd been coming to Paris every year on vacation and thought, why not give it a shot. We didn't have any big plans or commitments and thought if we didn't like it we'd just pack the two duffel bags we arrived with and head back to California". In hindsight, he feels they came at the right time, as the previously mentioned wave started to swell "it was the beginning of a big rush of energy in the city with lots of new things opening up and people wanting to do new things", he says. He sees the progression of Paris' bars and restaurants as a natural extension of the rising awareness and popularity of 'bio' (French for organic and bio-dynamic), a movement that first gained traction with markets and fresh produce to cook at home. "Paris has always been a city focused on quality in many areas, but after eating great organic produce at home it makes sense that one isn't going to be satisfied with just another mojito in another corner café" he quips. David remains circumspect about the inevitable loss of older establishments during periods of rapid change commenting "that's just life in any city".
Even before Weekends, David and Cheri's love of design spanned countless creative disciplines. This led them to be natural collaborators when the right opportunity presented itself. That opportunity was Candelaria. David was originally commissioned for just the graphic design, but before he knew it the brief expanded and he was responsible for the full interior design. He describes that this was the point he knew he needed to get Cheri on board, which apparently took some convincing. Fortunately, their complementary strengths led to a successful design partnership. David explains how they have found a natural symbiosis in their joint projects "I tend to take the lead on the technical side of things…while Cheri tends to focus on the larger picture and keeping us on concept, she's got an incredible eye for colour and she's also amazing for sourcing – everything from tracking down lamps from Japan to stools from Sweden, as well as finding artists to collaborate with." Speaking with David and Cheri you get a sense of how their shared lives could naturally progress to a creative venture – they both love, as David puts it, all steps of the design process, yet their different personalities provide diverse perspectives.
Since completing Candelaria in 2011, Weekends has created the interiors for several Parisian success stories, from Pigalle's cocktail and hotdog bar Glass to Haut-Marais local Le Mary Celeste. In a city like Paris, David sees restaurants and bars as more than just places to go out, he remarks that "most people in Paris don't have a ton of extra space to entertain in their homes, so these spaces become our living and dining rooms." Naturally David and Cheri's backgrounds with smaller scale design means they often get involved in the fine grain details, such as in Le Depanneur, a new bar and restaurant in the 9th with a design that the studio describes as "Palm Springs meets Big Sur". It would seem logical given David's background that Weekends would look after the graphics package, but they also took care of the furniture, playlist and a specially designed wooden hi-fi unit. According to David, working on larger scale interiors projects is not necessarily more complex than smaller scale briefs – each project has its own set of challenges no matter the size. He admits though that the tangible rewards of interiors projects, particularly bars and restaurants, are easier to reach "when you walk by a project you worked on and peek inside to see crowds really enjoying themselves, you can't help feeling that your design plays a part in that" he says. Given the success of the venues they have worked on, it is clear that the type of spaces David and Cheri want to hang out in also tick a lot of boxes for the Parisian population. David confesses that with Candelaria: "initially we were a bit selfish, wanting to create a bar and restaurant just for us. We honestly thought, this is going to be great, we'll have this place as our hangout for the first year until it gets busy, little did we know it'd be packed from opening night on."
And where will Paris and Weekends go from here? Acknowledging that this is a city that works in waves, David and Cheri are hopeful that more and more interesting bars and restaurants will continue to pop up – they even see the potential for the current "burger wave" sweeping the city to pave the way for more diverse, high quality street food options. With their innate ability to create the kinds of places that not just they, but people in their adopted home, want to spend time in, we're sure they will stay ahead of the wave, whatever form it comes in.