Iris Brosch
Posted on March 17, 2017 by Catherine Bennett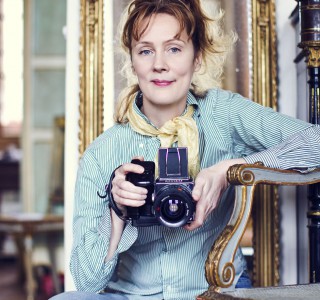 Words: Catherine Bennett
Images: Iris Brosch
I turn off a street in the bustling Marais, and let myself into a leafy courtyard. Instantly, I notice the silence, compared to the busy road I've just left. I walk up a typical wooden Parisian staircase, slightly dusty and worn smooth. And when Iris Brosch welcomes me into her apartment, I can't help but let my mouth fall open.
"It's 17th century!" she tells me blithely as I gaze around the beautiful space. The afternoon light streams in through the large windows, which take up almost the entire wall and look out onto a garden. Everything is gilt and ornate, decorated in an idiosyncratic style familiar from Iris's photography, with heavy Raphaelian touches of velvet and gold. An animal's pelt is draped over a sofa. Every inch of the wall is covered in frames, filled with Iris' own photography, paintings, mirrors, or, curiously, nothing. I ask her about the smattering of unfilled frames, and she tells me how when she arrived in the apartment, the frames remained unhung for weeks – it was only when a friend with a young child came to stay that she was forced to hang them hurriedly to get them out of the way of his manic tumbling. And then of course, visitors would speculate over their artistic significance. She laughs gleefully. "So I had to put something in them! I suppose it is representative of my work… But really it's just whatever I had lying around at the time." Iris's work is heavily symbolic, taking cues from Renaissance painting and sculpture – "I love Botticelli", she asserts – and often features a strong feminine presence as the focus of the image. This is what I'm keen to talk to her about: her evident interest in depicting women as symbols of strength and power, but first I ask her how she came to adopt Paris as her home – or how Paris adopted her.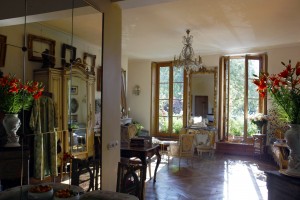 She grew up in Germany with a Prussian father and an Austrian mother. It was only after she was rejected from art college in Berlin in her early twenties that she decided to move to Paris and learn French. Initially, she worked as an au pair for a wealthy aristocratic French family, living in a small chambre de bonne, listening to Ravel and reading Baudelaire to teach herself French. "I'll never forget, they had this beautiful library with red velvet wallpaper. I had never seen so many beautiful books at once that I could take and read."
The way that Iris speaks is like her photography, rich and dense with colour and image. Speaking evocatively of her first year here, she reminisces, "I loved Paris – I remember how beautiful everything seemed. And coming from Germany where everything is so serious, Paris is so light. It has a lightness to it, a freedom."
Iris soon found her niche amongst the artistic community of the city, working as a photographer's model. She shrugs, "If you're tall and skinny and a foreigner, after a while people always end up asking you if you want to be a model." This was a turning point in her life – it was when she realised that the photographers she was working with were not "smart" and expected their models not to speak or think too much, that she decided to teach herself photography.
She worked slowly at first, taking casting shots for model friends' portfolios, working during the day and coming back to her small kitchen to develop and cut her film in the evenings. She never went back to working with oil and paint and instead focused on capturing images with film. She muses wryly "You know, I don't know how I survived. When you are twenty you don't need much money". From her small apartment in Oberkampf she gradually built up professional contacts and experimented with her style. She did postcards, record covers, and from there began to receive advertising work – for banal things like tampons, rather than the glamorous shoots for major fashion houses that came later in her career. After going to America her network grew and she began to receive more advertising work. Since then, she has shot for Vogue, the New York Times, Valentino, Vanity Fair, Maybelline and Campari, to name just a few. It was her work for Valentino that threw her into the spotlight – during an era of minimalism in fashion photography, Iris made her mark with opulence, her strong and sexy Raphaelian women.
But how does she reconcile her feminism with her work on advertisements, and the inevitable sexualisation of women in the industry? For Iris, the female body is powerful and erotic and there is nothing wrong with using it if it is presented in the right way. It is when a woman is presented as "sexy but stupid" that it becomes dangerous. "When you see nudes these days it is just like a woman is an object; you never see the soul of the person. So what I'm trying to do with my nudes is to glorify the body – because it's beautiful – but also to glorify the soul behind it." She references Raphaelian and Renaissance art as epochs when there was a marriage between the body and the mind; both were equally appreciated as beautiful.
"What I am trying to do with my work is restore something that has been lost for the past thirty years. In the seventies there was a strong feminist movement – although now women are allowed to work, to earn their own money, to vote, women are essentially enslaved by images of what they need to look like and how they need to be in order to get a man. Today, no one wants to be a feminist. It has become a dirty word."
As a reaction to what Iris sees as the "disappearance" of the feminine, recently she has been focusing more on her own artwork. Her most recent piece, Desponsamus te, mare, was performed at the Venice Biennale earlier this year. It forms part of an overall project linking the plight of women with that of ecology and nature. It explores the idea that both women and the earth are abused by an inherently male system – the fracking and mining of the earth can be compared to the symbolic penetration of women, dominated by patriarchal social hierarchies and conventions.
While she talks, she gesticulates passionately, occasionally substituting a French or German word so as not to break her flow. Iris is generous and warm, her open exterior conceals the tough ambition underneath. I wonder if she has ever had a conflict with a fashion house over a clash of values, sensing that here is a woman unlikely to compromise over a moral standpoint. She tells me point-blank that she would simply never do a shoot that disagreed with her principles, however famous the name. In fact, given creative licence, often she will deliberately include a playful nod to some underlying idea, as in an editorial she did once for the New York Times. It was a Mark Twain-style shoot, and she decided to reverse the traditional roles from that era and to have a white model washing the feet of a black model. "They even ended up using it as an opener page in the magazine. None of the fashion people really realised – the black model was the only one who understood what I was doing. That was interesting."
Now that she is taking on less commercial work, Iris can spend less time in the US and more time in Paris. Does she feel French in any way, after so many years living here? She laughs and says no – "Although my friends in New York say I've become really French because I'm always late!" I remark how that runs counter to the German stereotype, and she continues, "The French have a great way of enjoying life. I would like to be French and just be beautiful and exist, without doing anything. But I'm German, I need to produce, to do, to feel like I have the right to exist." After a career that has taken her to shoots all over the world, to life in New York and Paris and Berlin, Iris is philosophical on the subject of home. "I feel there is something quite Austrian in me. And America is certainly better for building a career… And Venice is beautiful, very creative, very vibrant." Eventually she smiles. "But home for me? It must be Paris. I like the softness of life here."