Strasbourg
Posted on November 24, 2015 by Jill Pope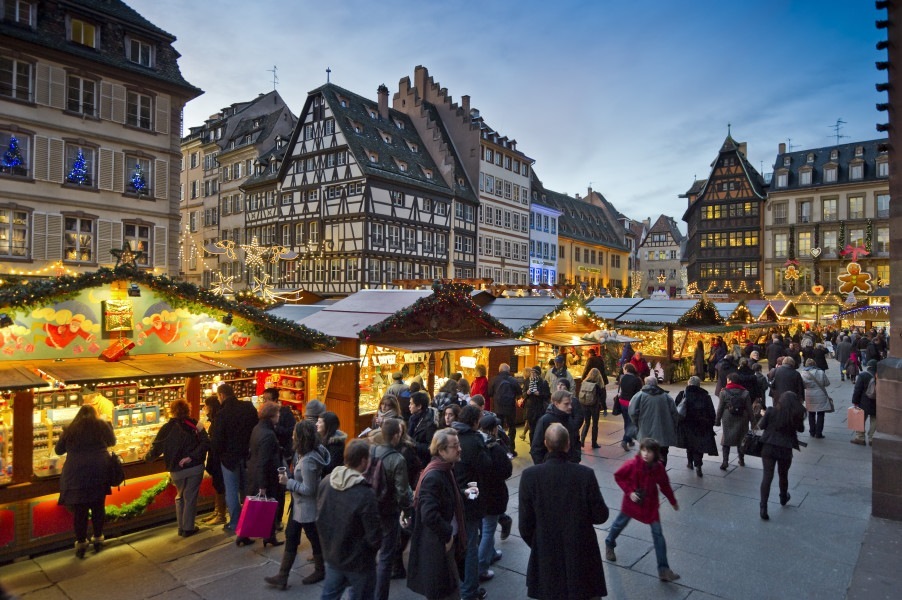 Image: Daniel Schoenen
The far east of France, Strasbourg is the capital of Alsace-Lorraine, a region that has changed hands between the Germans and the French over history, which gives the city a bi-national flavour in its quaint wooden architecture, language, food and culture in general. Strasbourg is also the seat for the European Parliament, but is perhaps best known for its annual Christmas markets, the oldest in Europe (their first was in 1570), which bring the whole city to life with Christmas lights and market stalls from late November to December 24 each year. It's true that Winter is the perfect time to go and enjoy Strasbourg's cosy charm, keeping yourself warm with a choucroute and a glass of Alsatian Riesling or beer.
To discover the art of living Alsatian style, a visit to one of Strasbourg's traditional winstubs is a must. Meaning literally 'wine room', these old-style bistros were originally wine bars and now serve up fortifying regional delicacies in warm, wood-covered dining rooms accompanied by the region's formidable wine selection, in particular aromatic white grapes such as Pinot Blanc and Gris, Sylvaner, Gewürztraminer and Riesling. Au Coin des Pucelles comes highly recommended as a great place to start your winstub experience as does L'épicerie, who are known for their tartines made with local ingredients. If you fancy taking home some of the wines you try, head to the boutique of reputed local wine co-operative Wolfberger, who sell wines from over 750 of the region's producers including grand and premier crus, as well as fruit brandies and beer. Maison Kammerzell, a historic house dating from the 15th century is now a restaurant and hotel, a great place to try the famed choucroute and soak up the ambiance and beautiful murals covering the walls.
Many people come to Strasbourg just for the Christmas markets, which are a collection of 'villages' spread out all over the city. For those of you eager to immerse yourself in the festive spirit in the self-proclaimed 'capital of Christmas', here is a short guide to some of the essential villages and their locations:
Place Broglie – the oldest Christmas village and where it all began, a selection of charming artisanal holiday decorations
Place de la Cathédrale – a cluster of stalls selling regional crafts
Place d'Austerlitz – this is the best place to get a bredele, the traditional Alsatian Christmas biscuit that also doubles as a decoration, and also has plenty of local wine
La Petite France District – Charcuterie (including foie gras) as well as smaller producers of honey and gingerbread
Place Gutenberg – This square always hosts an international guest of honour – sample their traditional Christmas food and activities
Place de la Gare – Just across from the main railway station, this village has a little bit of everything if you are short on time
For those visiting Strasbourg out of the Christmas period, the city also boasts several museums, including the heritage-listed avant-garde 20s décor of the 'Aubette', the mysterious Voodoo Museum with the world's biggest collection of West African voodoo artifacts (open from 2pm each day), and the Alsatian museum, which includes of the traditional houses and presents the folklore of the region. The gothic splendour of the Strasbourg Cathedral is also a worthwhile stop on any visit to the city.
EAT
Au Coin des Pucelles
12 rue des Pucelles
03 88 35 35 14
L'épicerie
6 rue Vieux Siegle
03 88 32 52 41
Maison Kammerzell
16 Place de la Cathèdrale
03 88 32 42 14
SHOP
Wolfberger boutique
7 rue des Orfevres
03 90 00 26 26
SEE
Voodoo Museum
4 rue de Koennigshoefen
03 88 36 15 03
Aubette Museum
31 Place Kléber
03 88 10 19 00
Alsatian Museum
23-25 Quai Saint-Nicolas
03 68 98 51 60
Strasbourg Cathedral
Place de la Cathédrale
TO STAY
Hotel Cour du Corbeau
6-8 rue des Couples
03 90 00 26 26
Housed in a 16th century building and located in the centre of town, this 4-star hotel will add a touch of elegance to any trip to Strasbourg.
Hotel Hannong
15 rue du 22 Novembre
03 88 32 16 22
For a contemporary twist on Strasbourg's olde-world charm, Hotel Hannong is a sleek design hotel with a whole spectrum of colour-themed rooms housed in a 1920s townhouse. A glass-floored rooftop lounge bar gives views over the rooftops of the city.