The best English-Language Bookstores in Paris
Posted on February 17, 2017 by VINGT Editorial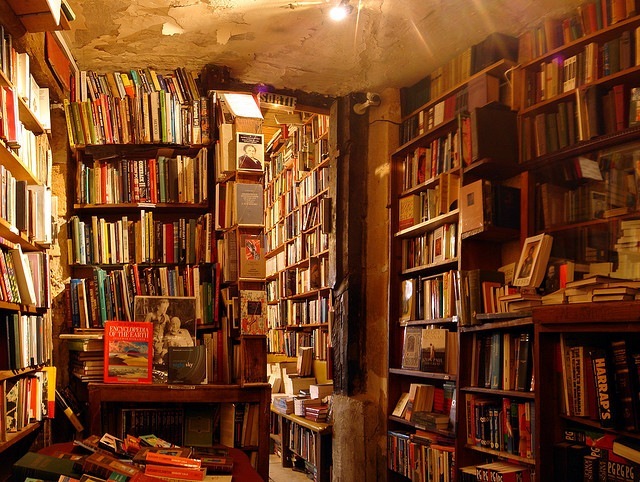 There's a surprising number of English-language bookshops in Paris that are just as enchanting as their French counterparts – and perfect for when you're through with the passé simple…
Words: Caroline Harrap
Image: Alexandre Duret-Lutz
Shakespeare & Co
37 rue de la Bucherie, 5th
Métro St Michel
Open 10am – 11pm every day.
shakespeareandcompany.com
An institution. Located opposite Notre Dame and chock-full of new and second-hand books, this is a must-visit. Also home to any aspiring writers or artists who drop in, they are welcome to stay in exchange for helping out in the shop for a few hours each day. Look out for the interesting events held upstairs and be sure to check out the shop's new and largely-vegetarian café next door.
Galignani
224 rue de Rivoli, 1st
Métro Tuileries
Open: Mon. – Sat: 10 a.m. – 7 p.m.
galignani.com
Founded in 1801 in rue Vivienne, and at their current base since 1856, Galignani is believed to have been the first English bookshop to open on the Continent. Banned from stocking English editions during the German occupation, they opened a section devoted to art books – and that continues to be a specialist area to this day alongside their fine selection of Anglo-American books.
Berkeley Books of Paris
8, rue Casimir Delavigne, 6th
Métro Odéon
Open Mon – Sat: 11 a.m – 8p.m. ; Sun: 2p.m. – 7p.m.
berkeleybooksofparis.org
Recently marking their 10th anniversary, Berkeley Books was started by three Californians who had worked together at a nearby bookstore but decided to team up and open their own. Featuring a wide selection of American and British works, they specialise in "the finest in used and rare books". Look out for the occasional collector's edition too.
W.H. Smith
248 rue de Rivoli, 1st
Métro Concorde
Open Mon – Sat: 9 a.m. – 7:30 p.m.; Sun: 1 p.m. – 7:30 p.m.
whsmith.fr
Forget the usual stationery fare of WH Smith in the UK – this is a proper bookshop in every sense of the word – and, in fact, the largest English bookshop in Paris. Opened in 1903, today you'll find many thousands of books here, as well as a proper English breakfast and fine teas, not to mention one of the best collections of international magazines that we've ever seen. A place in which to lose yourself for hours.
The San Francisco Book Co.,
17 rue Monsieur-le-Prince, 6th
Métro Odéon
Open Mon – Sat: 11 a.m. – 9 p.m.; Sun: 2 p.m. – 7:30 p.m.
sfparis.com
Located in the heart of the Left Bank, the San Francisco Book Company is another go-to place for second-hand books in English. With a wide range of quality titles in every discipline, they have a particular reputation for their art books. Also one of the best places in Paris to sell your own collection or trade them in, there is a buyer on duty most days. Celebrating their 20th anniversary in 2017, we're hoping for some special events.
The Abbey Bookshop
"La Librarie  Canadienne de Paris"
29, rue de la Parcheminerie, 5th
Métro St. Michel & Cluny La Sorbonne – Open every day 10 a.m. – 7 p.m.
abbeybookshop.fr
Started by a Canadian in 1989, the Abbey Bookshop is perhaps best-known for its wide choice of books from that part of the world but also offers an eclectic collection of some 35,000 titles in English, ranging from the scholarly to popular literature. Housed in a beautiful 18th century building, the shop is located on rue de la Parcheminerie, originally named rue des Escrivains after the scribes and scriveners who were once the heart of the Parisian book trade.
Le Petit Roi Librairie
39 Passage Jouffroy, 9th
Métro Richelieu-Drouot & Le Peletier
Open Mon to Sun, 11am-7pm
Something of a hidden gem, this enchanting bookshop is located in the beautiful 19th century arcade, Passage Jouffroy. Specialising mainly in French/Belgian comic books, they also have a nice choice of American vintage comic books – and, tucked away upstairs, you'll find a beautiful selection of second-hand children's classics, among which there's normally a fair few English gems to be found.