Le Beverley Cinéma: Last Porn Theatre in Paris
Posted on January 2, 2012 by Brian Clark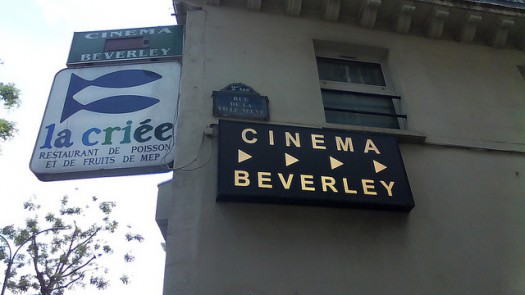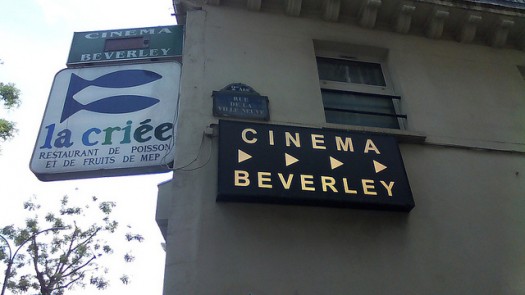 Text: Brian Clark
Image: Alaina Lele
Upon taking a seat at Le Beverley Cinéma, the first thing I notice is that all of the patrons except my girlfriend and I choose to sit at the back of the theatre. I immediately realize our blunder – after all, why come to "couples night" at the last true "Cinéma X" in Paris and then sit in a place where you have to turn around to check out the activity of all the other couples?
By the time we realize our mistake, the lights have gone down and there is a mid-30's man on screen trying to convince a lonely French woman to take off her clothes while he films her.  He doesn't have much trouble. Soon the duo is outside a log cabin having sex in every possible position.  It seems like an awkward moment to stand up and relocate to  a cluster of other couples, so we instead opt to make out and take turns stealing glances toward the back of the theatre.

Most of the other couples are making out too.  Some are, I think, doing more than that but it's dark.  The clientele is mostly older, though there is one younger couple.  And, true to the stereotype, at least one man showed up wearing a long, dark trench coat.
Later when we meet the long-time owner of the cinema, Maurice Laroche, he immediately laughs at us for sitting in the middle of the theatre.  Grey-haired and jovial, Laroche possesses a warm, amiable personality that likely proves indispensable when working the ticket window.
His theatre is equally inviting.  In fact, with its huge exposed-brick wall and red-leather-style seats, it ranks alongside the very best small cinemas in Paris in terms of both comfort and aesthetics.  Moreover, for adventurous Francophiles, the historic theatre provides an opportunity to step into a sexy, lost era of French culture that I suspect hosted more artists and interesting citizens than all of the cafés in the Latin Quarter combined.
"Here, we get visits from Australians, Americans, Japanese – people from everywhere," Said Laroche.  "One article in the Herald Tribune said, 'First see the Eiffel Tour, then see the Le Cinéma Beverley.' C'est l'amour!"
Laroche started working at Le Beverley thirty years ago after responding to a "help wanted" ad that conveniently left out the fact that the theatre showed pornographic films.  He said that his choice to stay at the theatre and eventually assume ownership was an easy one because of the "nice environment" and the fact that they were initially able to develop their own loyal clientele.
Located right off of boulevard Bonne Nouvelle and not far from the red light district around Strasbourg-St. Denis, Le Beverley has managed to survive drastic changes in the quartier and now stands as one of the few reminders of a past that many older Parisians still romanticize.  Laroche specifically mentions the days before the indoor smoking ban, when locals swarmed to cafes every morning to have a morning coffee and cigarette while exchanging news.
Back then the neighborhood, known as Le Sentier, served as a hub for the fashion industry.  With wall-to-wall textile shops, the area bustled during the day with buyers, sellers and other merchants, which Laroche said gave him a steady stream of clients.
Now the quartier hosts a number of theatre venues (and far less parking), which Laroche says has made the demographic much younger, created a crowded nightlife, and made the neighborhood virtually dead during the day.  Along with these factors, the pace of life and the accessibility of Le Beverley's product have changed with the advent of technology and the fallout of the economy.
"Times are tough," Laroche said.  "Everybody is so busy with their cell phones and computers, it's harder for them to find time to spend the day with us.  People might as well have computer chips in their heads."
And yes, it's because of "computer chips" people can now readily access almost unlimited adult content on the internet and home video.  But thinking about these dreary, poorly-lit excuses for titillation highlights another unique aspect of Le Beverley, which also separates it further from the sleazy peepshows and sex shops that still abound in Pigalle – the films themselves.  Le Beverley shows films from every era, including old 35mm prints of 70's porno films, which Laroche heralds as the Golden Age of Cinéma X.
"It was completely different then," Laroche said.  "The films actually had a budget, decent actors and décor.  The women were real and had [pubic] hair, and everybody looked like they actually enjoyed sex."
To illustrate the contrast, he gestures to the screen behind us, on which a newer adult film has been providing ambience throughout our interview.  Indeed, the blonde, waxed woman with the Playboy bunny tattooed on her ass doesn't seem to really be enjoying whatever the two men on screen are doing to her.
"Back then you had a small group of people who made films together and enjoyed the work," he continues.  "You had a few stars that everyone knew, and a little bit of story in the films.  Now the people making the films change every six months and if there's any story at all, people just want to fast forward to the sex."
He also adds that well-respected directors and cinematographers used to make adult films under pseudonyms in the 60's and 70's, which also contributed to the overall quality.
"It's nothing new," Laroche says.  "If you look at cave paintings from the Stone Age, men were drawing naked women.  Male artists have always loved naked women."
Laroche alternates showing old 35mm prints and newer digital adult films just to keep all of the clientele happy, though he sometimes shows digital transfers of extremely old adult films too.
During the day, when a flat rate grants access to a full day of adult films, Laroche says that the clientele is almost exclusively male, especially retired men who can afford to spend the day in the dark.  However, the theatre also hosts couples nights on Thursday and Saturday nights, where the romantically adventurous come not so much for the movies, but for the thrill of the dark, public space and relaxed, lassiez-faire attitude.
"On Couples Night, the movie on the screen is not so important," Laroche said.  "It's the movies in your head that count."
For a while, Laroche also hosted erotic poetry nights where a woman would read poetry and strip.  Sadly, she's no longer in Paris, so Laroche is on the lookout for someone to fill the cultural void.  Ideally, he'd like a sexy violinist.
Those with an aversion to the risqué who still want to see the historic space (which served as the dance room for a restaurant on the boulevard during World War II), might consider attending one of Le Beverley's non-pornographic theatre performances.  On these nights, Laroche covers up all of the posters of nude women and hosts plays and one-man-shows for the public — though he notes with a grin that women can always tell it's a Cinéma X as soon as they walk in, posters or not.
Diverse programming like this is likely a big part of how Laroche stays in business.  Besides (or maybe because of) the wide availability of cheap, no-plot porn on the internet and home video, porn films – which used to play in the same theatres in Paris as mainstream genre films – have again been relegated to the margins and are often looked upon with disgust.  Laroche however, doesn't believe that people have truly become more prudish.
"People never change, people always like sex," Laroche said.  "Sometimes the political or religious climate changes, which makes them become more hypocritical about it, but that comes and goes.  Ultimately, we are just showing what they all do at home."
Le Beverley Cinéma
14, Rue la Ville-Neuve, 2nd
Métro: Bonne Nouvelle
Hours: Every day from 12pm
Couples Nights: Thursdays & Saturdays