Marché bio Batignolles
Posted on October 22, 2015 by Jill Pope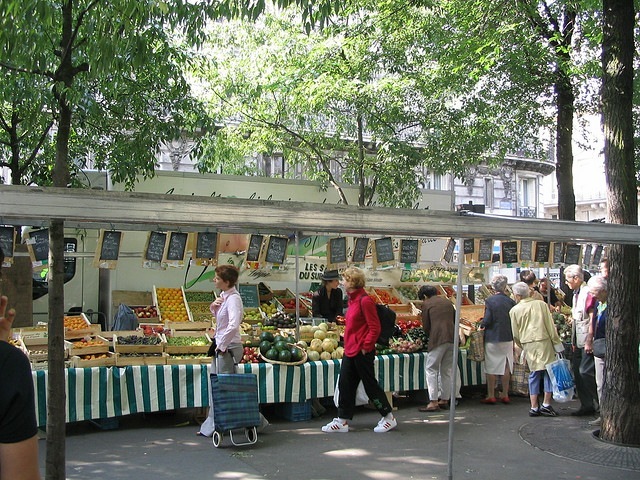 Image: Timothy Mason
Batignolles in the 17th arrondissement used to sit outside the Paris city limits and the neighbourhood has retained the village-like lifestyle with cute boutiques, leafy streets and a local community passionate about their area. One of the best places to experience the charm of this district is the bio (organic) market held each Saturday morning on a small patch of the Boulevard Batignolles.
People flock from all over Paris to pore over the city's most sought over organic goods. Get here early to see the full range of produce : seasonal, heirloom vegetables rendered beautiful by imperfection, olive oils, dried fruits and spices, cheese, honey and other goodies straight from the farm. The vast majority of products sold are grown in France and the store-holders will be more than happy to chat with you and give recommendations for preparing ingredients and recipes, especially for some of the more obscure vegetables or herbs that you might not be able to find anywhere else. Some of our picks include the excellent quality 'superfoods' and raw ingredients (think cacao nibs and maca powder) from canal-side restaurant Sol Semilla, and aged apple cider vinegards from Jean-Luc Millet (and the occasional forager's treasure).
An outing to Batignolles market is a wholesome way to start the weekend and to pick up some special items to cook throughout the week. Once you've got your haul, settle into one of the local cafés for a coffee or plate of oysters. This is Paris at its best.
Batignolles (bio) market
34 Boulevard Batignolles, 17th
Saturday 9am-3pm
Metro : Place de Clichy (2, 13)